We have an Interim Pastor!
This last Sunday, June 12th, 2022 a vote was taken on Pastor Adam Wolfgang to be our interim pastor. The vote by members was unanimous and we will be welcoming Pastor Adam to WCC this week.
---
Questionnaire For WCC
Pastor Adam handed out an interview form both at service last week and they will also be there this week as well. You do not need to turn them in, but please try and look them over and have answers in your mind for when you meet with him in the near future. The questions are here below, and we will also have the PDF attached for easy download as well. Thanks.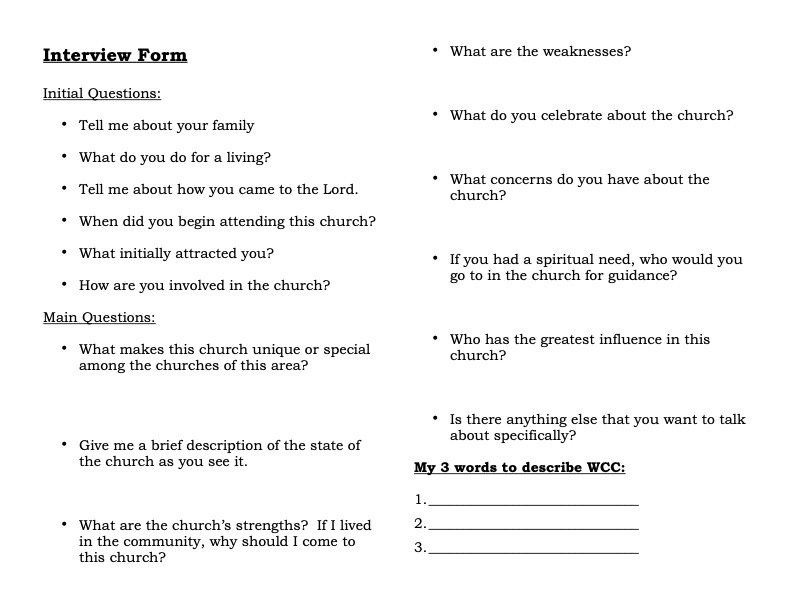 ---
Want to know more about Pastor Adam, check him out at the links below:
---
Other Updates
— The Elders have granted Pastor Alan the status of "pastor of Emeritus" which means he is retired but will keep his ties to WCC and have credentials to serve our body in the visitation of the sick and injured in hospitals. He will also be able to carry out funeral requests as needed. Note that all other concerns or requests should be directed to the current elder board who will be guiding the body forward.
— We encourage our church family to engage in small groups or to consider starting a small intimate life group in which you can grow together, and encourage one another outside of Sunday church gatherings.
Thank you and may Christ be at the center of all you do!
WCC Elders